I'm entering another photo challenge...can you believe it? I surely can't. I am not pro but I figured linkin' up with challenges may be a way for people to help me learn things.
I was going through some pictures in my computer and came across a picture I took back in October while visiting Apple Annie's Orchard and knew right away that it would fit Angel Perry's YELLOW photo challenge.
When we got to the orchard and I saw the field of sunflowers, I knew I wanted to get lost in the middle of it and just start snapping away. This was even before I wanted to start learning photography. The husband & I grabbed the shears and headed into the field. We were looking for the perfect sunflower to cut and bring home. I think they even had a sale that day....5 for $5! :]
Anyways, as he was going up and down the rows, I was too busy snapping away. I think he was getting a little irritated but oh well. ;]
I even caught some sun flare! Ambrosia would be so proud of that.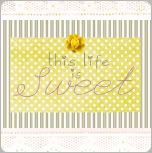 Hope you like it. You should go see all the other entries! Some people just amaze me with their talents!